"Bagpipers myth of pastoral Abruzzo" – an exhibition in Rocca Calascio
|
From August 19th to September 6th, 2015 you can visit the exhibition "Bagpipers myth of pastoral Abruzzo" at the Rifugio della Rocca in Rocca Calascio, the beautiful village on the Gran Sasso of Italy which did not survive the decline of the pastoral world that for centuries characterized its economy and culture.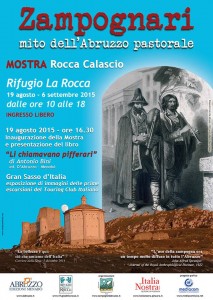 The last inhabitants left definitively the village in 1956 following the paths of migration, like other villages of Abruzzo, handing the old village to silence. With the collapse of the sheep farming they slipped into oblivion even the shepherds-musicians, the pipers. The exhibition is a revived and expanded one of  the 2013 event.
The exhibition, which has the patronage of Italian Nostra (sect. Pescara), intends to recover the ancient history of these unique musicians and rebuild the immense cultural heritage bequeathed especially by artists, writers and foreigners musicians who visited Italy in the times of the Grand Tour and were frequently inspired by these expressions of the pastoral world of Abruzzo. A phenomenon still alive in Europe as evidenced by the exhibition of Italy of the German Romantic painters and of early photographers of the late nineteenth century "Pathos und Idylle. Italien in Fotografie und Malerei", taking place at the Neue Pinakothek in Monaco of Bavaria until September 29 . In this exhibition, as in the   others previously staged in several European cities, it doesn't miss the theme of pipers or better pifferari, as they were called by foreign travelers in Italy.
The exhibition – designed by Antonio Bini – is promoted by the Association Zampogne Abruzzo that in recent years has been engaged in promoting this ancient instrument and the recovery of lost musical heritage, including through the resumption of cooperative relations with the cultural expressions  related to bagpipes in the low Lazio and Molise, areas formerly united by transhumance. On July 7th, the band of the Association, composed of 24 elements, was host at Expo2015. In the exhibition there are also images of the first tours of the Italian Touring Club on the Gran Sasso of Italy.
The exhibition opening will take place Wednesday, August 19th at 16:30, with the presentation of the book by Antonio Bini "They called them pifferari: bagpipers myth of pastoral  Abruzzo" – published by D'Abruzzo-Menabò.  Michele A. Jocca, ninety-year-old illustrator and passionate historical memory of Calascio and its Rocca, with its evidence of the extincted community.ità.
Free entrance to the exhibition, open from 10.00 to 18.00.
We remind you that during summer transit of cars directed to the Rocca is not allowed and that the Rocca can be reached by bus or on foot.